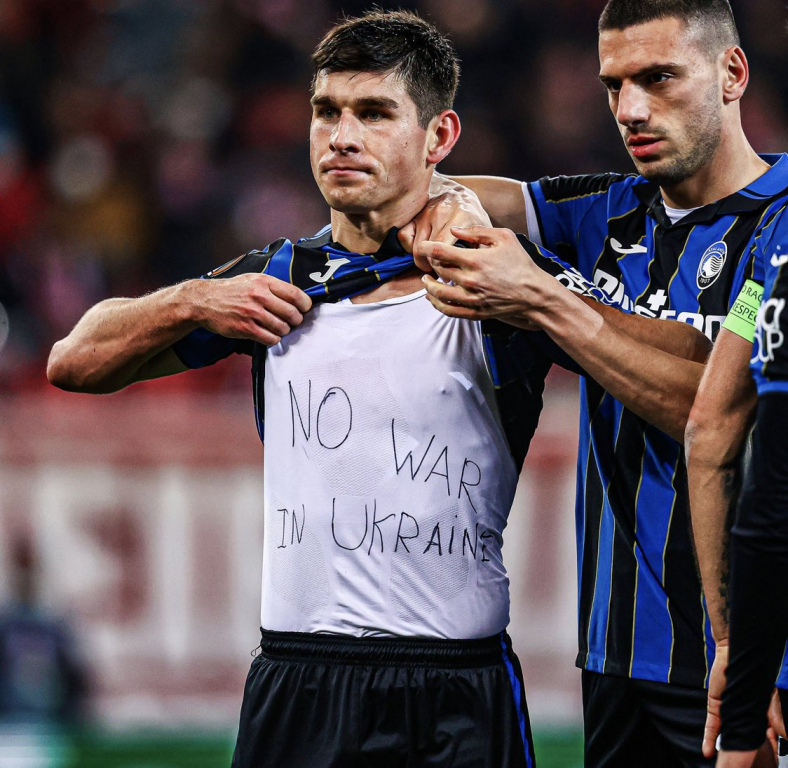 As one of the best Ukrainian players of his generation, many eyes have been on Ruslan Malinovskyi in 2022. The Atalanta midfielder made headlines for his passionate speeches against the war in his homeland. Crucially, too, he spoke of his desire not to lose friendship with Russian teammate Aleksei Miranchuk. This garnered major praise across the sporting world, seen as a wonderful gesture in a time where many Russian and Ukrainian friendships were falling apart.
Miranchuk, though, has now moved on from Atalanta – joining Torino on loan. And it now looks like the 29-year-old could be leaving Italy, too. Reports in the country suggest that he has had a major falling out with coach Gian Piero Gasperini. The Italian is seen as all-powerful at Atalanta, so much so that the club sided with him over fan favourite Alejandro Gomez.
The Ukraine midfielder, though, has been a major player for Atalanta since he first arrived at the Bergamo club. Given he only played six minutes at the weekend opener, though, eyebrows were raised. The player himself has a year left on his deal, and reports suggest that a fee of under €20m could land him for an interested party this summer.
Seen as a player who could do damage in any league, Malinovskyi has fans in Germany, Spain, and in England as well as France. The two teams most heavily linked include Tottenham Hotspur and Olympique Marseille. The former is managed is Antonio Conte, who was a known fan of the goalscoring midfielder when he managed Internazionale. The latter is managed by Igor Tudor, a coach who knows Gasperini and his teams well.
Coach and player no longer on speaking terms
Gasperini, a fiery character in his own right, has had a habit of falling out with key players. Apparently, the duo fell out majorly after a game against Newcastle United. Now it is reported that neither player or coach or on good terms at all – and with the year left on his contract, the club will look to sell Malinovskyi for the best fee they can get for the player.
Seen as a highly important player for years, his exit from the club in such acrimonious terms will have some fans concerned. It is yet another major player who has been essential to their relative success in recent years who will be moving on without much positivity.
For all of the progress made by Atalanta as a club in recent years, they still have problems with moving players on gracefully. The Ukrainian departing would be yet another messy exit in a series of moves that has seen players once beloved by the club leave in disharmony.
For fans of La Dea, too, seeing yet another player leave this summer is a sign that the ambitions of previous years will no longer be possible. Too many vital cogs have left in recent years, and Malinovskyi might be the last of the recent greats of the current Atalanta squad to depart.