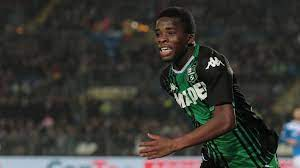 As one of the best development clubs in Italian football today, Sassuolo are used to seeing young talent grow. The club has built its name on giving young players, domestic or otherwise, a chance to grow and thrive in Serie A. The likes of Gianluca Scamacca and Giacomo Raspadori are fine examples of how a young player can develop if given time. However, Sassuolo have also been a home for many African players who have had their chance to shine in Serie A.
One player who fits that description is Hamed Junior Traore. The all-action midfielder has enjoyed an excellent development phase in the city. However, the 22-year-old has impressed to the standard where he will likely move on this summer. The Neroverdi could be facing a few major exits this summer, with the aforementioned trio all likely to see big bids coming in this summer.
Traore is most seriously being courted by Napoli, who see him as the ideal addition to their midfield. With an ageing midfield unit and a need to refresh the squad in the middle of the pitch, Napoli are keen to bring the player in.
Reports in Italy suggest a bid worth an initial €16m has been turned down, with the player expected to fetch a minimum of €25m on the current market. However, with the right agreement and the right promise of future incentives, Napoli could likely land the deal closer to the €20m mark.
Traore himself is keen to make the move to Naples, reports suggest, though other sides also in the UEFA Champions League – including both Milan giants – are keen to make Traore an offer he cannot refuse.
Sassuolo readying for another rebuild
With so many players likely to move on from the club this summer, the provincial club look set for a new project to begin. Having watched the trio mentioned, and others, develop into an exciting and effervescent team, it will be a real shame to see the team break-up. However, it is likely the club uses the funds brought in to develop the club in terms of facilities and scouting network.
The hope is that, as they have done for many years now, Sassuolo can build a new generation whilst banking the proceeds of their hard work. While it might be some time until we see Sassuolo taking to the field with a team of young Italian internationals again, they have become a focus point for youth development.
With Italian football in relative crisis with the limited number of domestic talents coming through, Sassuolo lead the way. They have access to a great scouting department and, much like Atalanta, and excellent player development program.
While it might mean having to take one step back to take another forward in the future, this is the way of life for Italian footballs smaller clubs. Given how long they have punched above their weight, though, both fans and players can be rightly proud of all that has been achieved at Sassuolo in recent years.