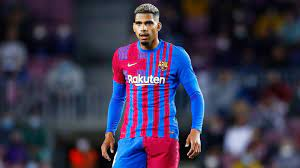 Amid the last few years of strife and financial pain at FC Barcelona, many younger players have been given a chance. Part of that has been down to necessity, but also down to the quality of the youngsters around the first team picture. One player who fits that bill is that of Ronald Araujo. The Uruguayan has made massive impressions for Barcelona since he first broke through into the first-team, reminding others of Jose Gimenez at Atletico Madrid.
However, a contract wrangle had fans and the club in general worried that they could lose the youngster to a more well-off opponent. Now, it looks like those fears have been avoided – a new deal until the summer of 2026 has been agreed with Araujo. A massive release fee has been put in, too, ensuring Barcelona are not caught cold as they have been with mandatory release fees in the past.
The signing has been received well by fans, club, and player alike. Having come from nowhere to be regarded as one of the best young defenders in the world, Araujo was keen to stress the key factors that have powered his rise.
Araujo thanks God for contract renewal
Having put in an incredible amount of work and development since his debut in 2020, Araujo's new deal is well-deserved. It is the provided comfort that is needed for a player who has fought off various challenges for his place in the squad, and who has remained a calming presence during a period of major change for the Catalan giants.
When the announcement was made of his new contract, Spanish publication Mundo Deportivo carried some interesting quotes from the player. In the announcement, Araujo was quoted as saying: "It's an enormous happiness to be able to stay here, to be able to renew with this club and stay for many more years.
"It's the result of a lot of work and thanks to God that this opportunity has been given. I thank my family, the club and my teammates, who've always made everything much easier for me, and the coaches who've helped me from the moment I arrived."
Araujo also spoke of his whirlwind development from potential prospect to key first-team starter in just two years. On that, he noted: "When I arrived at Barcelona B it was something tremendous, everything was great, but the prospect of moving up to the first team looked complicated. So today, to be in the first team having played more than 75 games and being able to renew, gives me huge happiness. It's satisfying, a sign that the work is being done well. Let's hope it stays that way."
Expect Araujo, then, to become a cornerstone of the Barcelona defence for many years to come. With an immense physicality paired up with a world-class mentality, it is clear that Araujo has the means and the quality to make the post-Gerard Pique world a lot less terrifying than it seems today.