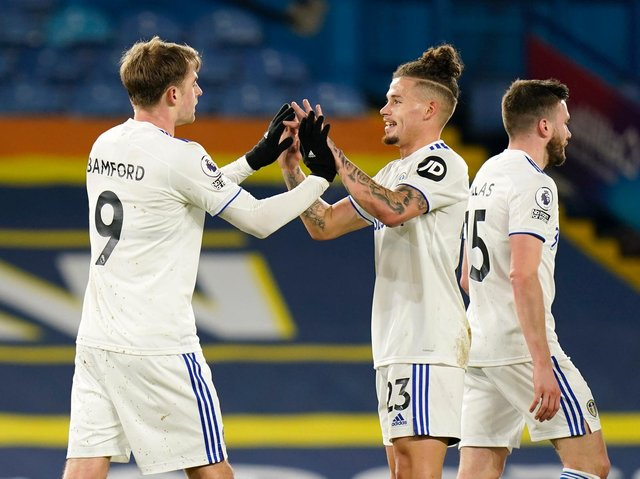 Ask any Leeds United fan, and they will tell you that the two most important players in the team are Kalvin Phillips and Patrick Bamford. Without the creative control in midfield that Phillips offers, Leeds find it that much harder to dominate the ball and play at the pace they desire. However, without Bamford, they lack that forward outlet who can score, link play, and combine with his teammates across the pitch.
Losing one player means that Leeds need to adjust their shape and style; losing both, though, is almost impossible to deal with. With a shallow squad and a limited talent pool, Leeds coach Marcelo Bielsa will need to find a solution as both players look set to be injured for at least the medium-term.
Phillips has been rocked with a hamstring injury that could keep him out for as long as two months. That is a killer blow just as the team has gained a little semblance of form. Worse still, Leeds are still trying to convince their homegrown playmaker to sign a new deal with the club and stick around for the long-term. To do that, they must show that Leeds can not only exist in the Premier League, but they can compete.
Losing Phillips for so long means that it will be harder to play well and finish in a suitable position. In fact, given the club is mired in a potential relegation scrap, they need to hope that someone else can fill in across the busiest period of the year.
A failure to net a top half finish and improve upon last year, though, could sow the seeds of doubt that Leeds have met their finest form under Marcelo Bielsa, thus pushing Phillips to leave.
Bamford injury an equal blow
While we do not yet know how long Bamford is going to be out for, losing the most important forward at the club is a nightmare. While the likes of Raphinha get bums off seats, the winger cannot work to the same standard when so many players are injured. Losing a key playmaker in Phillips hurts the ability to find him early; the loss of Bamford means one of the best space-creators in the league is missing.
This leaves Leeds with a major headache. None of the other strikers at the club has shown anything like what Bamford can in all-round play. This makes finding a solution, and building a team around the system, far harder than it might have been previously.
Without Bamford (and Phillips), Leeds simply cannot play the same brand of football. They are two of the most defining, unique pieces in the entire roster. Losing them is a catalyst for poor performance and results. Given Leeds are still closer to relegation than European contention, it is imperative that Bielsa and co. find a solution – even in the short-term.
Try as they may, simply trying to play the same without two crucial team cogs would be a mistake.