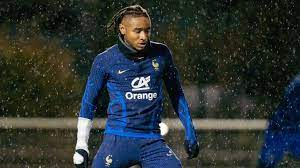 As the 2022 edition of the FIFA World Cup begins to kick into gear, teams are beginning to arrive ahead of the Sunday opener. However, while fans are keen to see the best players take part, a raft of injuries threaten to derail some of the teams taking part. Current holders France, for example, are already missing a series of their most important players. A new player has been added to that list, also – Christopher Nkunku.
The French international suffered an injury in training ahead of the tournament beginning, and it was confirmed that he will now be replaced. Presnel Kimpembe has also missed out on the tournament, failing a fitness test and thus being replaced. A quick statement from the national team stated: "Injured in training, Christopher Nkunku must give up participating in the World Cup. The whole group shares Christopher's sadness and wishes him a speedy recovery,"
This is a bit of a blow to the France national team. Nkunku has been a breakout star in blue for some time, and also has scored a hugely impressive twelve goals in just fifteen games in the German Bundesliga. Now, he will be forced to watch the tournament from the sidelines.
France will look to call-up a replacement. Nkunku was injured in a challenge with teammate Edouardo Camavinga in the match, and it has seen Nkunku now ruled out for the major event. Despite the setback, he is still young enough to take part in a future tournament for Les Bleus. Given they were favourites to win this, though, that might not come soon enough.
Who will replace Christopher Nkunku?
The forward might be out, but it means that the door has opened to another player who could come in. The replacement also comes from the Bundesliga, with Eintracht Frankfurt striker Randal Kolo Muani getting the call-up to take part. At 23, Muani is good enough to come in and make an impression but also young enough to learn, improve, and get stronger for a future tournament.
He joined Frankfurt in the summer, and has been impressive for the Eagles as they build on their 2022 UEFA Europa League triumph. They beat Glasgow Rangers in the Final, winning the match on penalties after an arduous, engrossing Final.
Muani has made a big impression on his team so far, and his call-up to the national team was speculated before the squad was announced. With Nkunku out, Muani offers a different profile of player and is likely to take a different kind of position within the team. However, he still brings a clinical edge to his game and should provide France with another one to watch in their squad list.
With so many exciting players donning the France shirt, then, it will be hugely interesting to see how this comes together. Nkunku missing out is a major blow, but for France the depth of their talent pool means it is an easy enough injury to recover from.