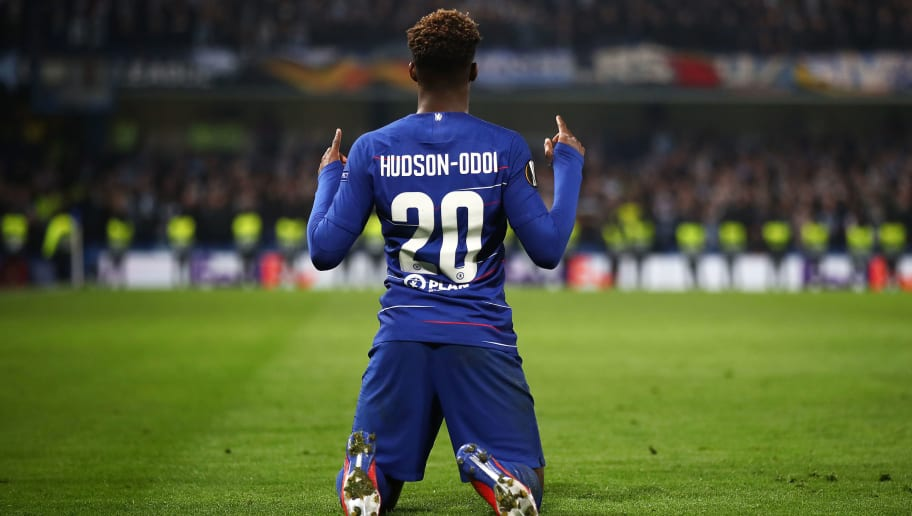 Callum James Hudson-Odoi was born on 7 November 2000, in the London borough of Wandsworth. He is an exceptionally talented left winger able to play in any of the attacking positions.
His father, Bismark Odoi, had been a midfielder for Accra Hearts of Oak. Hearts of Oak is one of the dominant clubs in Ghana and has won the Ghana Premier League 20 times.
Having been born in London to Ghanian parents, Callum was eligible to play for both England and Ghana. However, Hudson-Odoi already at an early age opted to don the Three Lions jersey. He has represented England in every age group from under-16 to under-19 and in March 2019 he became the youngest England player ever to make his debut in a competitive match, versus the Czech Republic in the Euro-2020 qualification. He came on for the hat-trick scorer, Raheem Sterling, in the 70th minute with England leading 4-0.
Before making his debut for England at 18, Hudson-Odoi had already enjoyed an impressive junior career. In 2017 he was part of the England squad which won the FIFA U-17 World Cup and who were runners-up in the UEFA European Under-17 Championship.
Hudson-Odoi scored the first goal of the final of European 2017 Under-17. However England would eventually go down to Spain in a penalty shoot-out.
He featured in every match of the FIFA U-17 World Cup. Hudson-Odoi scored one goal against Chile and provided two assists as England got their revenge on the Spanish by coming back from being 2 goals down to winning the final 5-2.
The same year he won the Under-18 Premier League with Chelsea. He has also won back to back FA Youth Cups with his Chelsea teammates.
Hudson-Odoi is a proper academy product. He joined Chelsea already in 2007 and made his under-18 debut at the start of the 2016-17 season. During this season he scored eight goals in 25 appearances.
Aged 16 he was promoted to Chelsea's under-23 team.
Below there is some rare footage of Hudson-Odoi as a 13 year old. This is followed by a video highlighting his skills as a 16 year old.
Hudson-Odoi was an unused substitute in Chelsea's EFL cup tie against Bournemouth on 20 December 2017. This was the first team he featured in Chelsea's first-team match-day squad.
He made his Chelsea first-team debut on 31 January 2018, coming on for Pedro in the 81st minute with Chelsea leading 3-0 in an FA Cup match against Newcastle United.
At the end of the 2017-18 season, Hudson-Odoi had made four appearances for Chelsea. Two in the Premier League and two in the FA Cup.
Coming into the 2018-19 season Maurizio Sarri had recently been appointed as Chelsea manager. Sarri quickly made it clear that Hudson-Odoi would remain with Chelsea's first-team squad for the upcoming season. Callum got jersey number 20 and played some 59 minutes in the 2-0 loss to Manchester City in the FA Community Shield. His first goal for Chelsea's senior team came in the Europa League in a home match against the Greek club PAOK. Hudson-Odoi started the match, scored a goal as well as got an assist. In an interview with BT Sport after the 4-0 success, which guaranteed Chelsea the top spot in the group, he said that he thought it was a dream after he had scored the goal.
At the start of the January 2019 transfer window, there was rampant speculation as Bayern Munich made several bids for Hudson-Odoi. Both Chelsea and Bayern Munich confirmed Bayern's interest and the player put in an official transfer request. Towards the end of the month only a few days after the transfer request, Maurizio Sarri made it clear that, even as Bayern had made an offer of £35 million, the player would be staying with Chelsea.
On 3 April, he made his first Premier League start for Chelsea in a 3-0 win versus Brighton. Hudson-Odoi made an assist for the first goal. This made him the youngest player in the Premier League era to make an assist on his first Premier League start. However, only three weeks later Callum experienced a season ending injury to his Achilles tendon during the first half of a league match against Burnley.
This was an extremely untimely injury as Callum had started four Premier League matches in a row and seemed to have successfully established himself as a starter.
When the 2018-19 season came to a conclusion he had made 24 appearances for Chelsea. Ten was made in the Premier League. Nine in the Europa League where he scored four goals. Two in the FA Cup as well as the EFL Cup and one in the Community Shield. He scored once in the FA Cup, bringing his season total to five goals.
Bayern renewed their interest during the summer window making an offer of £22.5 million bid, which was again rejected by Chelsea.
The club legend, Frank Lampard, was brought in as the first English manager to manage Chelsea in more than two decades, in July 2019. Throughout the summer there was a lot of speculation about Hudson-Odoi's future. Lampard did not waste any time in making clear that he thought Callum's future was with Chelsea, saying;
"He can show, right here at Chelsea, the team he came through the academy at, that he is going to be a world-class player – because I truly believe that."
In September 2019, Hudon-Odoi signed a five year contract, worth more than £120 000 a week, with Chelsea. The following months Callum would move on to say that he had made the right decision staying with his boyhood club and that a conversation with Lampard had been instrumental in convincing him to remain at Stamford Bridge.
Chelsea's transfer ban, which made it impossible for them to bring in new players before the 2020 summer window, meant that there likely would be plenty of opportunities for the upcoming generation of Chelsea players.
The Achilles injury kept Hudson-Odoi out of action until the end of September 2019. Coming back Callum made a video of his road to recovery together with Chelsea.
He made his first Premier League start under Lampard, and got an assist, in a 4-1 away victory at Southampton.
He scored his first goal in the Premiership on 11 January in a 3-0 home victory against Burnley.
At the end of the 2019-20 season Hudson-Odoi had made 33 appearances for Chelsea and scored three goals. Likely he would have played a fair bit more if he had not still been injured the first few months of the season.
The summer transfer window was Chelsea's first opportunity for bringing in new players for a while as the FIFA transfer ban had been lifted.
Chelsea had violated FIFA's rules by signing foreign players younger than 18 years of age. As a consequence Chelsea had been unable to add new players during the 2019 summer window and the 2020 winter window.
With the ban expired, Chelsea made five major acquisitions during the summer of 2020. Timo Werner, Hakim Ziyech, Kai Havertz, Ben Chilwell and Edouard Mendy arrived at Stamford Bridge. In total the club spent more than 200 million pounds sterling.
During the first half of the 2020-21 season, Callum got less playing time in the Premier League than many expected. Even as Frank Lampard acknowledge that Hudson-Odoi was playing well and improving he seemed to be Lampard's third choice on the wing.
Of course the competition was very hard with players like Christian Pulisic and Hakim Ziyech available, but even Timo Werner was utilized a fair bit as a winger.
In October Bayern yet again showed an interest in Hudson-Odoi. The Germans wanted to bring Hudson-Odoi over on a loan deal with an option-to-buy clause worth £70 million.
Chelsea started the season in great style, winning their UEFA Champions League group and leading the Premier League in early December. However, after a dismal spell with only two wins in eight Premier League matches and having dropped to ninth, Frank Lampard was sacked on 25 January 2021 and Thomas Tuchel was brought in to replace him. Even if he would have preferred not to take over mid-season but rather at the end of the season in order to have a full pre-season, Thomas Tuchel eventually accepted the position and became the first German Chelsea manager.
Tuchel has played Hudson-Odoi much more frequently than Lampard did. Even so there has been some friction. On 20 February, less than a month after taking over at the club, Tuchel brought Hudson-Odoi on as a half time substitute against Southampton only to take him off some half hour later. After the match the manager stated that:
"I was not happy with his attitude, energy and counter-pressing. I took him off and we demand 100%, I feel he is not in the right shape to help us. It was a hard decision but tomorrow it is forgotten."
Even so, Hudson-Odoi was a starter in Chelsea's next match, the round of 16 Champions League encounter against Spanish Atletico Madrid, which Chelsea won 1-0.
Chelsea has played well after Tuchel took over. They beat Manchester City 1-0 in the semi to advance to the FA Cup final where they lost by a goal to nil to Leicester City.
Callum started on the bench but was substituted for Cesar Azpilicueta after 76 minutes.
With two rounds remaining in the Premier League, Chelsea sits in fourth and is in control of their own faith regarding the qualification to next year's UEFA Champions League.
Chelsea will play in an all English Champions League Final versus Manchester City on May 29th in Porto, Portugal. Based on the priorities of Tuchel over the last few months Hudson-Odoi is more likely to be a substitute than a starter. Even so it is far from unlikely that he will get to play in this final.
According to Transfermarkt Hudson-Odoi's market value has been very stable over the last two years, hovering around the £35 million mark. Considering his huge potential we think it likely that his perceived value will increase in the years to come.